Madison punished by teacher – images used with permission
Teacher / student roleplay is one of the most popular and enduring scenes among kinksters, and something I definitely recommend you try out! In this article, I'm going to cover Teacher/student roleplay and share some fun tips and tricks for an enjoyable scene. I write this with the caveat that a) not everyone is interested in roleplay b) these are simply guidelines – you can of course (and should) modify and expand on this to suit your (and your play partner's) limits and preferences.
This post contains affiliate links. For more info, see our disclosures here.
My Dominant and I often engage in light roleplay. We dance in and out of our "play" roles throughout the scene, keeping it lighthearted and exciting while still preserving the power exchange. As of late, and in keeping with our dynamic, we've specifically been experimenting with a classic Teacher/student role play. We had a great scene at Threshold (Los Angeles) recently, making use of their fantastic classroom-style playroom – pictured above. If you happen to live in a less "saturated" area in terms of clubs, you can easily set the stage for your own classroom either in the dining room or your home office. Keep in mind, the aesthetics of the play space are less important if you are able to use your imagination and fully immerse yourself into the mental aspect of the roleplay, which is arguably the most important part of any scene.
Dressing the part of your role is fun too. There are a ton of options for school girl and boy outfits. Looking the part of the Teacher is as easy as a business suit or pencil skirt. The Teacher can start the roleplay days in advance by giving a homework assignment. This can be as easy as some rudimentary math problems or something tailored to be more personal like an essay question. This will be a great tool to bring back into the actual play scene. You could also plan it far enough in advance that your student has forgotten about it by the time the scene comes around.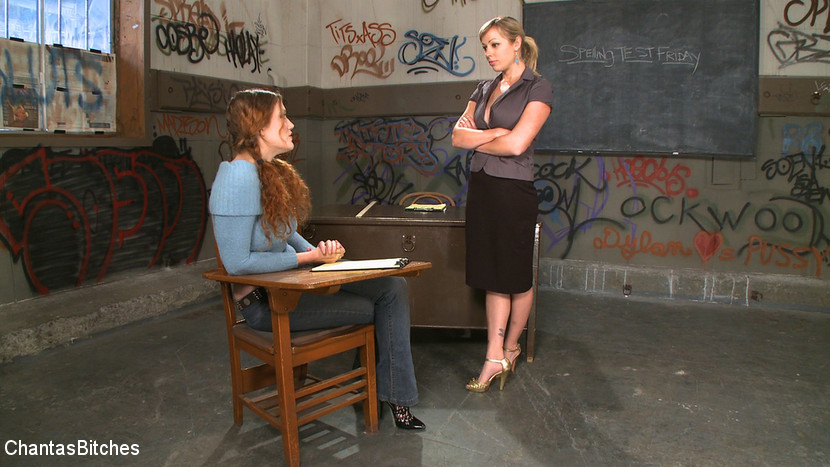 Sabrina does not care for teacher's punishments
The actual scene provides a myriad of creative opportunities. You'll want to have your Teacher tools on hand such as a ruler, a birch cane or switch, notebooks, sharpie markers, hard back books (for impact play), a chalkboard or whiteboard if you've got it, and any other fun, non-school room accessories you may find useful.
To begin, the Teacher will want to assert their dominant role by conversing with the student about their behavior thus far. You can also discuss homework and give the assignment a once over to see if it's satisfactory. It actually doesn't matter if the student did well or not, they'll still benefit from some punishment, of course!
At this point, you can really get your creative juices flowing (no pun intended 😉 My Teacher challenged me throughout our scene with verbal commands and tasks. Below are series of "field tested" ideas and scene-spirations you can use in your own scene.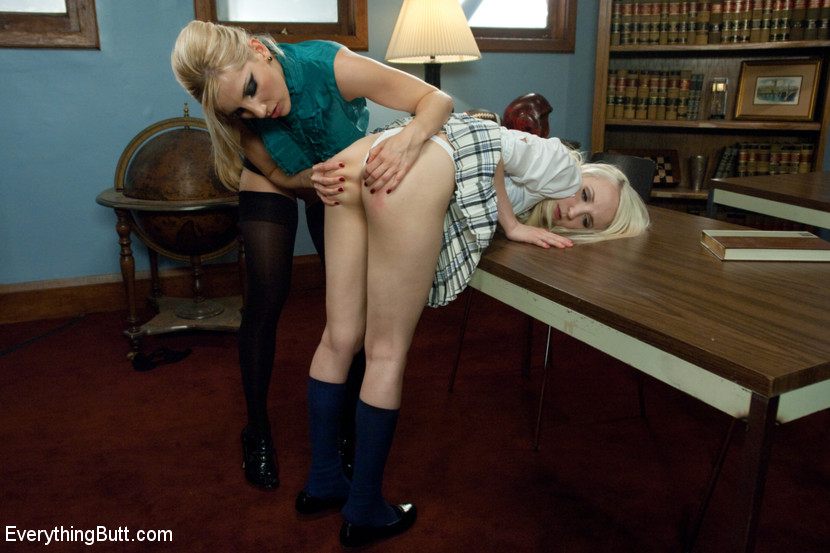 Spanking is a natural fit in teacher/student scenes
-For being late and losing my homework, I was paddled with a brand new metal paddle with a heart cut out
-When my bratty side came out and I talked back, I had to write, "I must never be a brat" on the chalkboard twelve times while also reciting it aloud and simultaneously being caned.
-Teacher challenged me to a Ping-Pong game on the teacher's desk. Every time I lost I of course was punished. At one point he claimed I lost a point. I challenged him and my Dom checked in with some of our scene spectators for an official ruling on the matter. I was victorious!
-My victory was short lived when I was asked a series of questions on varying subjects including geography, math, and a few random ones thrown in between. I think I was more disappointed in myself than Teacher was disappointed in me for the lack of knowledge I possessed. Geography class was a long time ago… how was I supposed to know Vancouver isn't the capital of Canada?
-Naturally, there were plenty of spankings doled out.
-Pencils, rulers, and books can all be turned into toys. Corner time, detention and dunce caps are all possibilities too, depending on the preferences of the participants!
-I thoroughly enjoyed the people watching the scene, stopping by to view my humiliation. Even if you are in a public dungeon without a classroom, you can still claim your own space and enjoy those stopping by to watch, if that is something in which you're interested.
To conclude the scene, the Teacher must deliver a final grade for the quarter. The Teacher cut my panties off and wrote in sharpie across my pelvic bone; "B-, Must Try Harder." I was not too upset, having never been an A+ student in my life.
Stay tuned for future posts on "scene-spirations." This will be a semi-recurring topic. Have you done a Teacher/student roleplay before? Let us know your own tips, twists, and scene ideas in the comments section below. Happy teaching!
Writer, model, babygirl, submissive. After trying vanilla relationships one time too many, anniebear finally realized her submissive desires and discovered the BDSM community. When not writing for Kink Weekly, she enjoys spankings and being tied with rope.